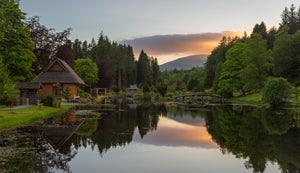 At the turn of the 20th Century, the Scottish adventurer Ella Christie returned home from a trip to the Japan inspired to build her own Japanese Garden. 
"As might be expected from the first western woman to meet the Dalai Lama, Ella's approach to developing the garden was trailblazing.  She chose a female designer – the gifted Taki Handa – to create the seven acre site in the grounds of Cowden Castle.  In doing so, The Japanese Garden at Cowden became the first and only garden of its size and scale to be designed by a woman.  It remains a unique and utterly authentic bridge between Scottish and Japanese culture.
Sadly vandalised in the 1960's, the garden is being brought back to life by a team of experts including the renowned Japanese architect and garden designer Professor Masao Fukuhara.  The Professor is best known for winning the Gold Medal at Chelsea Flower Show as well as the restoration of The Japanese Gardens at Kew, London and Tatton Park, Cheshire.
Michael Innes, admired for his landscape designs at Attadale Gardens and Dumfries House is now our horticultural consultant.
Robert Grindrod, our Estate Gardener continues to battle the elements to maintain the seven acre site prophetically named: The Place of Pleasure and Delight' by Ella Christie. He is also responsible for developing the new Stewart Adventure Woodland.
Cowden was inherited by my father, Bobby Stewart and is now managed by a charitable trust. As chairwoman of Cowden Castle SCIO, I am delighted to announce that we have passed the half way mark of the restoration programme.  The decision to open the garden before completion was taken due to the overwhelming support and interest in the project. "
SARA STEWART, CHAIR, COWDEN GARDEN SCIO 
"In a sheltered foothold of a grassy range of hills, that stretch from sunrise to sunset, lies the gardens of my dreams. As its background softly rounded hills breathe peace, after the fierce volcanic agencies that upraised them, and long aeons of time have moulded their forms into the undulating lines that encircle the surroundings of 'Shã-raku-en', The place of pleasure and delight."
ELLA CHRISTIE AND ALICE STEWART'
A long look at life by two Victorians